What Are Refractory Anchors?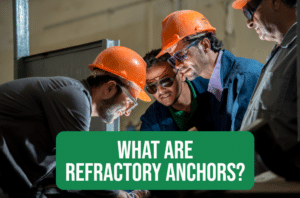 As a manufacturer, you may need to use refractory anchors to create a variety of products. If you've never worked with refractory anchors before, it's important to have an idea of the key characteristics of these fasteners and how they can be used. Here's a basic overview of what you should know about refractory anchors.
What Are Refractory Anchors?
Refractory anchors are highly important for a wide variety of industries because they fasten materials to the inside of furnaces or processing equipment. These versatile fasteners are made of stainless steel, Inconel, ceramic, and other alloy materials. They are designed to withstand extremely high temperatures so that they can anchor a variety of high-temperature linings. These linings include boards, blankets, and modules.
Refractory anchors are vital for manufacturers because they ensure that any material fastened to the inside of process equipment or furnaces is safely secured. They can withstand extreme temperatures in order to be used inside this equipment.
Different Types of Refractory Anchors
Refractory anchors can be made of several different materials, including stainless steel, ceramic, Inconel, and various other alloy materials. Refractory anchors are designed to fasten materials to the inside of processing equipment or furnaces, so the materials used to make them need to be able to withstand the high temperatures within that equipment.
It's important to note that you should use different refractory anchors for different projects. If you require an anchor that can withstand the highest temperatures, you should choose steel or ceramic. Alloy can be used for lower-temperature projects.
Using Refractory Anchors
Without refractory anchors, there would be no way to fasten materials inside process equipment or furnaces. Refractory anchors are crucial for the functionality of these items.
When working with refractory anchors, it's important to know how they function. The anchor tip should remain close to the refractory. It should be no more than two inches from the hot face of the refractory, according to New Equipment Digest.
If you're a manufacturer in need of refractory anchors, Refractory Anchors Inc (RAI) has the supplies that you need to create high-quality products. We carry a wide variety of refractory anchors and can tailor projects to meet your specific requirements. Contact us today to get started.